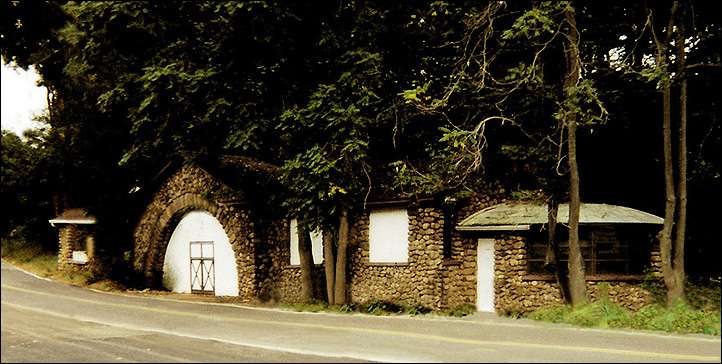 The Home of Linda Rossin Studios - More History
(The photo above shows the studio as it looked when I purchased it in 2005.)

After the Ringling family vacated this complex, the buildings were sold independently. This particular building was purchased by a candle manufacturer, but due to unfortunate circumstances there was a fire. Fortunately this occurrence didn't affect the solid stone structure and only the roof required replacement. Shortly after this incident a small performing arts theater took over the building before it was sold once again. Although this time it was used as a commercial business site for custom plastic bag manufacturing, no further alterations were made because this owner felt a great respect for the building's architectural beauty and important place in history.
The above picture is very deceiving and gives the appearance of a small quaint structure. In reality the building is 3,000 square feet with a 20 foot peaked ceiling! It is 25 feet wide and 100 feet long, including the semicircular room at the nearest end. The inner walls are the same fieldstone as that of the outside, and the interior ceiling is made up of large wooden beams and trusses. We have made some changes including two zone energy efficient heating and AC units, upgraded all of the electric, and installed a handicap accessible bathroom which meets ADA codes. Exterior upgrades include a new insulated roof and some tree removal. Only a minimum of additional external modifications will be made in the future as my intentions are to maintain the history, integrity and romantic allure of a bygone era.
This building, as well as the other stone structures on the 185 acre estate are on the National Register of Historic Places in New Jersey. I am very fortunate that my agent came across this extraordinary place for my new studio, just fourteen minutes from my home. It is everything that I had ever dreamed about...... and more!