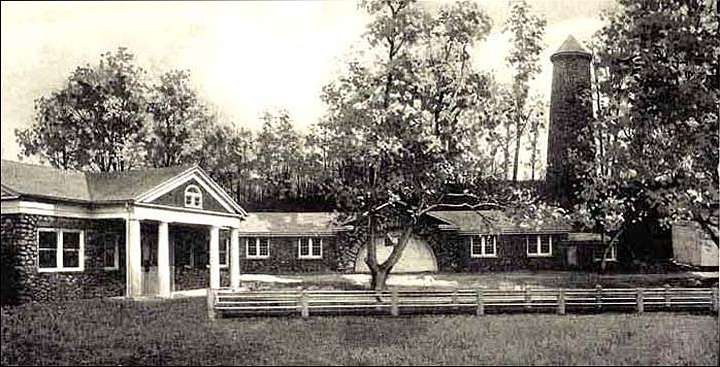 A 1920 photograph reveals the details of my building as well as the structures that surround it.
I had hoped to eventually find an old photograph of my building close to the time when it was constructed. What unbelievable luck! A friend recently discovered this picture at a local yard sale! It appeared within a brochure promoting the Ringling property as a potential golf club and country club estate.
I feel exceedingly fortunate to have this at this time, especially with the renovation in full swing. We no longer have to guess as to what type of windows were originally installed, it's all here in black and white!
It is my understanding that Alfred T. unexpectedly died in 1918. His property passed to his wife and his ownership within the circus was divided amongst his brothers. It is rumored that Alfred's wife considered selling the estate to developers. Obviously there were some serious dealings concerning this action. Why else would a potential developer go to the extremes of producing a brochure with proposals and specifications for investors? In those days life moved along at a much slower pace and it is my suspicion that the crash of 1929 may have halted further progress on this project.
The tower in the background of this photograph still sits on my property, minus the peaked copper roof. (Yes, I own a water tower!) Alfred Ringling was not only an adept wire walker, and circus owner, he was a very brilliant man. He concocted many new and functional devises for his estate -- like this water tower. He dammed Lake Swannanowa, installed turbines to generate his own electricity, which included a pump to transfer water from the lake to the tower, which then gravity fed all of the complex buildings! Remember, this took place in 1913 when most homes barely had plumbing or electricity!
Although the tower still stands with it's stonework in almost perfect condition, the theft of the copper roof (year unknown) exposed the oak beamed floor to the elements. It is now unfortunately in a slow state of decay.
Below is a photograph of how the tower appears today.