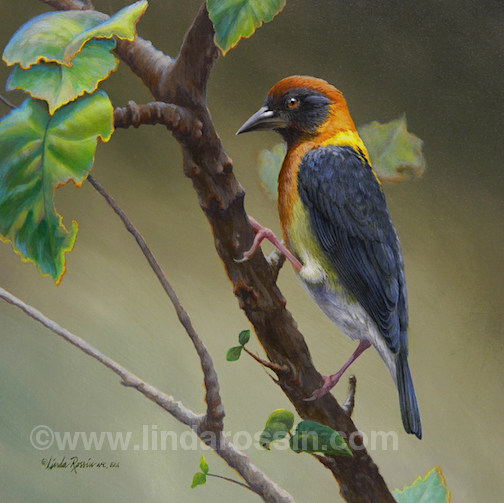 Golden-naped Weaver
Print on Canvas
Image: 8 x 8"
$100 USD + shipping
See ordering instructions below
I was one of 160 artists from 15 countries who participated in Artists For Conservation's international collaborative super-mural mosaic "Silent Skies" that features all 678 endangered bird species of the world. A limited number of 8 x 8" canvas editions are now available for purchase. Each print is $100 US + shipping. Proceeds from your order will support bird conservation and environmental education.
Purchase a print of my "Golden-naped Weaver" by going directly to my page HERE where you will see an enlarged detailed view, learn about the last sighting for this endangered bird, its location and current estimated populations. To purchase, click "BUY A PRINT." Or browse the entire collection here and see all 678 prints being offered by AFC before making your purchase decision.
The 100 foot Silent Skies Mural installation formed the artistic centerpiece of the 27th International Ornithological Congress in August 2018 in Vancouver, BC. The mural is currently scheduled to tour internationally through 2021.