Out on a Limb
Clouded Leopard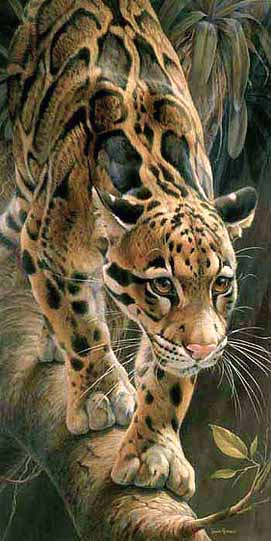 30" x 15"
Paper Giclée . . . . . . . . . . . . 250 s/n print only $280 USD
Enhanced Canvas Giclée . . . 75 s/n print only $650 USD


(Prices do not include shipping & handling)
Linda Rossin's award-winning endangered cat collection is now available as signed and numbered limited-edition Giclée prints on pager or canvas. Each canvas is individually enhanced by Linda, adding even more drama to these highly dimensional and moving images. Canvases are protected with ultraviolet and waterproof coatings then stretched over wooden supports. The paper edition is printed on 140-pound Classic Velour acid-free stock.
Images on paper or canvas are available individually or in suites of five prints.

Paper Edition, under glass
Framed, example A
40 1/4" x 25 1/4"
$675 USD plus shipping


Paper Edition, under glass
Framed, example B
40" x 25"
$750 USD plus shipping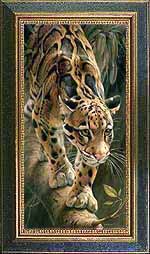 Canvas Edition Framed
(Limited quantity available)
37" x 22"
$1,150 USD plus shipping

Because some detail is lost in the photographing and scanning process, the Frame Examples on this page do not necessarily show off the true textures and colors of the matting and frames. Linda can describe to you what the frames look like.