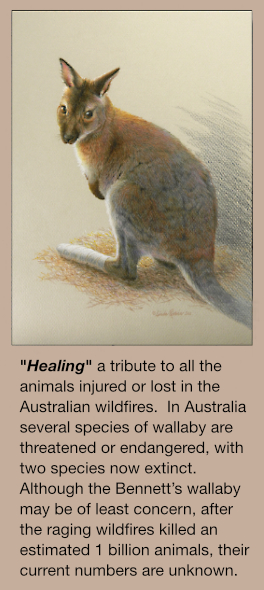 In its forth year, Sketch for Survival 2020 is a conservation campaign organized by the registered UK charity, Real World Conservation Trust, to raise funds through an online auction for conservation charities that are pivotal in the battle to protect imperiled animals. All profits from the sale of the artwork will be gifted to this year's beneficiaries: Animals Asia, Community Scout Patrols-Conservation Lower Zambezi, Genomics Project -- Central Africa.
The SFS auction, consisting of a remarkable collection of 200 original artworks and sketches, is live and open for bidding. The works, in two categories have all been donated by the professional art community as well as by celebrities and world explorers. The young wallaby "Healing" (pictured) is Linda's contribution to this year's event.
You don't have to register to view the artwork, but if you come across a piece, or pieces you'd like to own, all you have to do is register, make your bid, and then track the bidding activity by refreshing the page on your selection(s). The closing date, Sunday, November 22nd, 3:00 New York time zone / 19:00 hours UK will be the most active day since everyone wants to be sure they have the winning bid. Your generosity and support of this most important auction is vital for its success. Thank you.